Handmade Ceramics for the Garden and Home
Individually crafted in my tumble-down workshop near Dartmoor in beautiful Devon
Potting Shed Ceramics
by Gill Dubey
All of my pieces, for the garden or home, are individually made by hand, by myself, giving each one its own unique identity.
The beauty of clay and glazes is their ability to throw unexpected results at times! This can be wonderful, or disastrous. The aim is for somewhere in between. Practise sometimes makes for perfect. Most people appreciate this charm.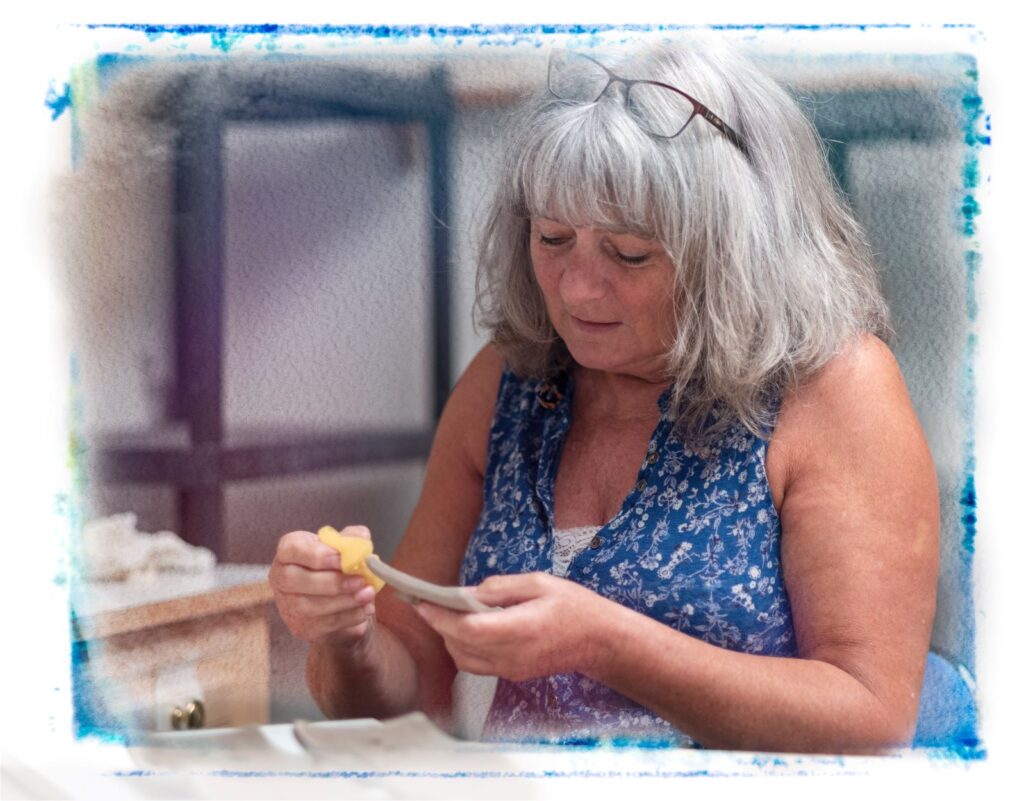 My life wasn't meant to be spent in the creative arts – as a young child I had always dreamt of becoming a nurse …
All a far cry from what actually unfolded. My secondary school art teacher had her own agenda. After constant suggestions that I should visit the local Art College Diploma Show, I relented. What harm could it do? I thoroughly enjoyed my after school art sessions after all … Once inside the building, in Rochester, Kent, I was hooked. Mrs Ashdown had been right. The buzz, the talent, the freedom, the potential….it was all there for the taking. All I had to do was unravel my years of youthful planning. And to tell my parents.
Consequently, after one years Foundation Course in Rochester I was ready to embark on my Degree Course. My life with ceramics started at Ravensbourne College of Art & Design in Chislehurst, Kent, way back in the early '80's. Three years later, I obtained my BA (Hons) in 3 Dimensional Design (specialising in Ceramics), of which my parents were incredibly supportive and proud. Phew! It was a wonderfully carefree creative time, memories of which I treasure.
From there, as a direct result of meeting someone at my Degree Show, I moved to Sussex where I worked in an Art Therapy Workshop before starting up my own small pottery. Supplementing my income I helped in the Care Home next door, the nearby Picture Framers and later at a local Art Gallery. During these years I met lots of wonderfully caring and creative people whose friendships I still hold dear.
Fast forward a good many years and we, (by now I have two children!), find ourselves living and enjoying life in the beautiful West Country close to Dartmoor. Here I established a successful gardening business enriching my love of plants. Now all I had to do was to combine my two passions of plants and clay …
Gill Dubey