Handmade Ceramics for the Garden and Home
Individually crafted in my tumble-down workshop near Dartmoor in beautiful Devon
Potting Shed Ceramics
by Gill Dubey
All of my pieces, for the garden or home, are individually made by hand, by myself, giving each one its own unique identity.
The beauty of clay and glazes is their ability to throw unexpected results at times! This can be wonderful, or disastrous. The aim is for somewhere in between. Practise sometimes makes for perfect. Most people appreciate this charm.
My most successful range, by far, is that of the humble soap dish.
With the recent awareness of plastic pollution and the need to move back to a more sustainable way of living, people are happy to use solid soap bars once again. There are some wonderful soaps being made these days without the use of harsh chemicals making them better for your skin as well as the planet.
Gardeners and indeed potters use an awful lot of soap! Of course, where there's a bar of soap, there should be a soap dish. Preferably a ceramic one …
My garden pots are hand built using a premium stoneware clay allowing them to withstand all weathers.
With drainage holes and feet they are suitable for direct planting. The troughs work well planted up with herbs by the kitchen door, equally with spring bulbs to brighten up a window sill. There are lots of shapes and sizes available to fit into your space.
As a centre piece on your patio table a pot can be planted annually with bedding plants such as geraniums, or covered in a wonderful selection of succulents needing minimum maintenance.
My earthenware pieces, suitable for indoors, are all made individually by hand, so no two are exactly the same.
Even the flower bricks have variations in their colourings. These are designed with those precious offerings of scrunched daisies & buttercups, lovingly picked by your little ones, in mind. I also use mine in the kitchen to keep fresh the herbs I intend to use later for cooking.
Unique pieces for unique spaces.
My life wasn't meant to be spent in the creative arts – as a young child I had always dreamt of becoming a nurse …
All a far cry from what actually unfolded. My secondary school art teacher had her own agenda. After constant suggestions that I should visit the local Art College Diploma Show, I relented. What harm could it do? I thoroughly enjoyed my after school art sessions after all … Once inside the building, in Rochester, Kent, I was hooked. Mrs Ashdown had been right. The buzz, the talent, the freedom, the potential….it was all there for the taking. All I had to do was unravel my years of youthful planning. And to tell my parents.
Consequently, after one years Foundation Course in Rochester I was ready to embark on my Degree Course. My life with ceramics started at Ravensbourne College of Art & Design in Chislehurst, Kent, way back in the early '80's. Three years later, I obtained my BA (Hons) in 3 Dimensional Design (specialising in Ceramics), of which my parents were incredibly supportive and proud. Phew! It was a wonderfully carefree creative time, memories of which I treasure.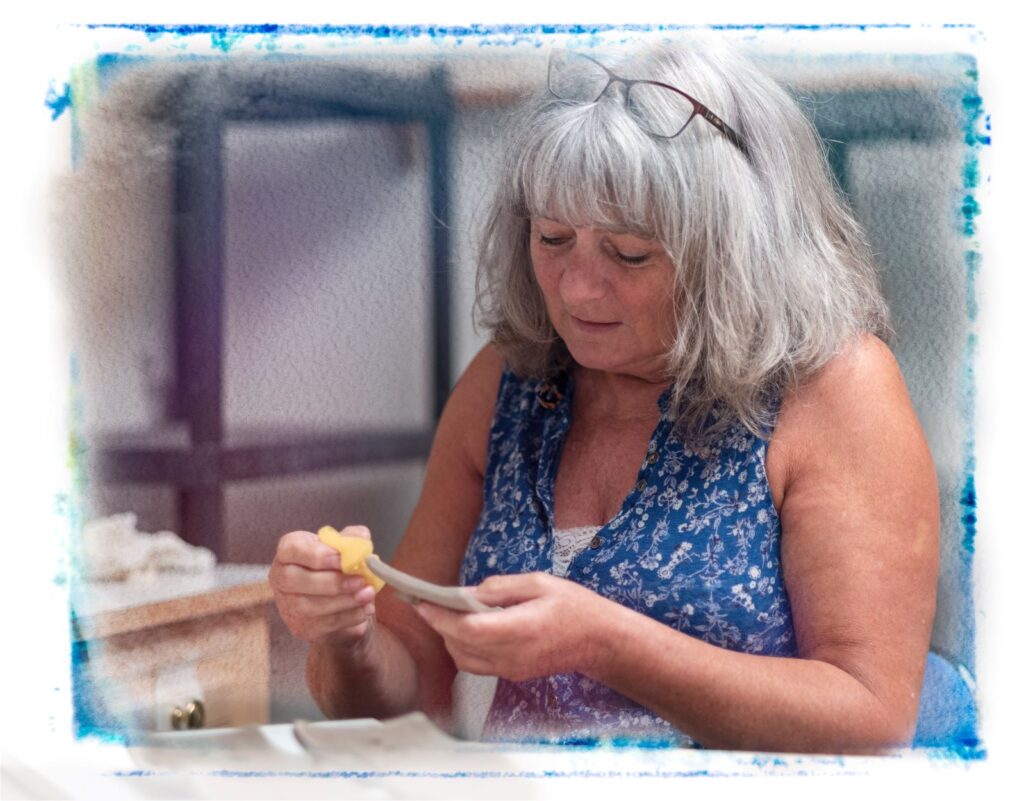 From there, as a direct result of meeting someone at my Degree Show, I moved to Sussex where I worked in an Art Therapy Workshop before starting up my own small pottery. Supplementing my income I helped in the Care Home next door, the nearby Picture Framers and later at a local Art Gallery. During these years I met lots of wonderfully caring and creative people whose friendships I still hold dear.
Fast forward a good many years and we, (by now I have two children!), find ourselves living and enjoying life in the beautiful West Country close to Dartmoor. Here I established a successful gardening business enriching my love of plants. Now all I had to do was to combine my two passions of plants and clay …
Gill Dubey